Vivoactive® 5, Black and Slate
BRIGHT 1.2" AMOLED TOUCHSCREEN DISPLAY
OMR 120
UNDERSTAND WHAT DRAINS AND CHARGES YOUR BODY THROUGHOUT THE DAY AND NIGHT WITH BODY BATTERY™ ENERGY MONITORING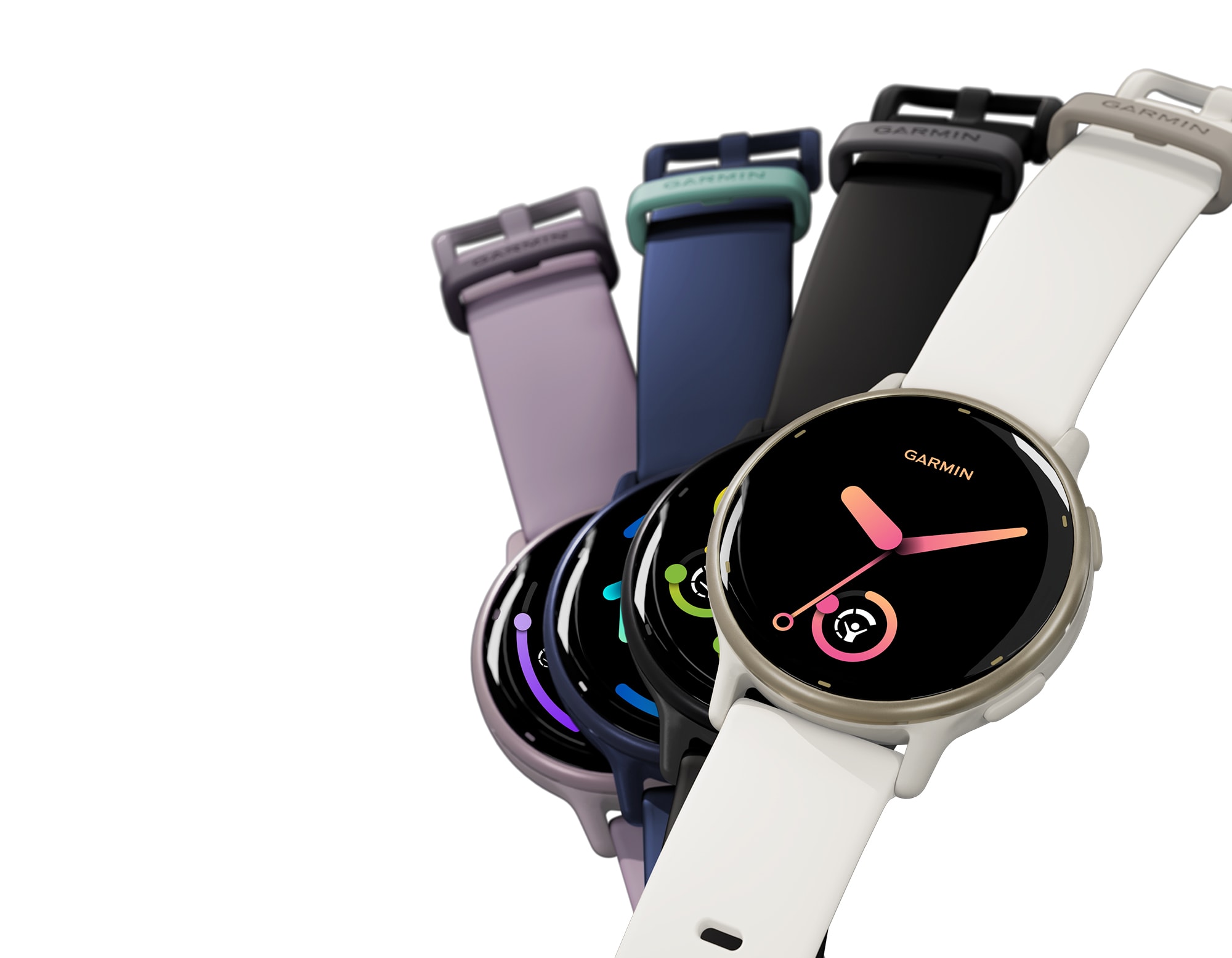 VÍVOACTIVE® 5
KNOW THE REAL YOU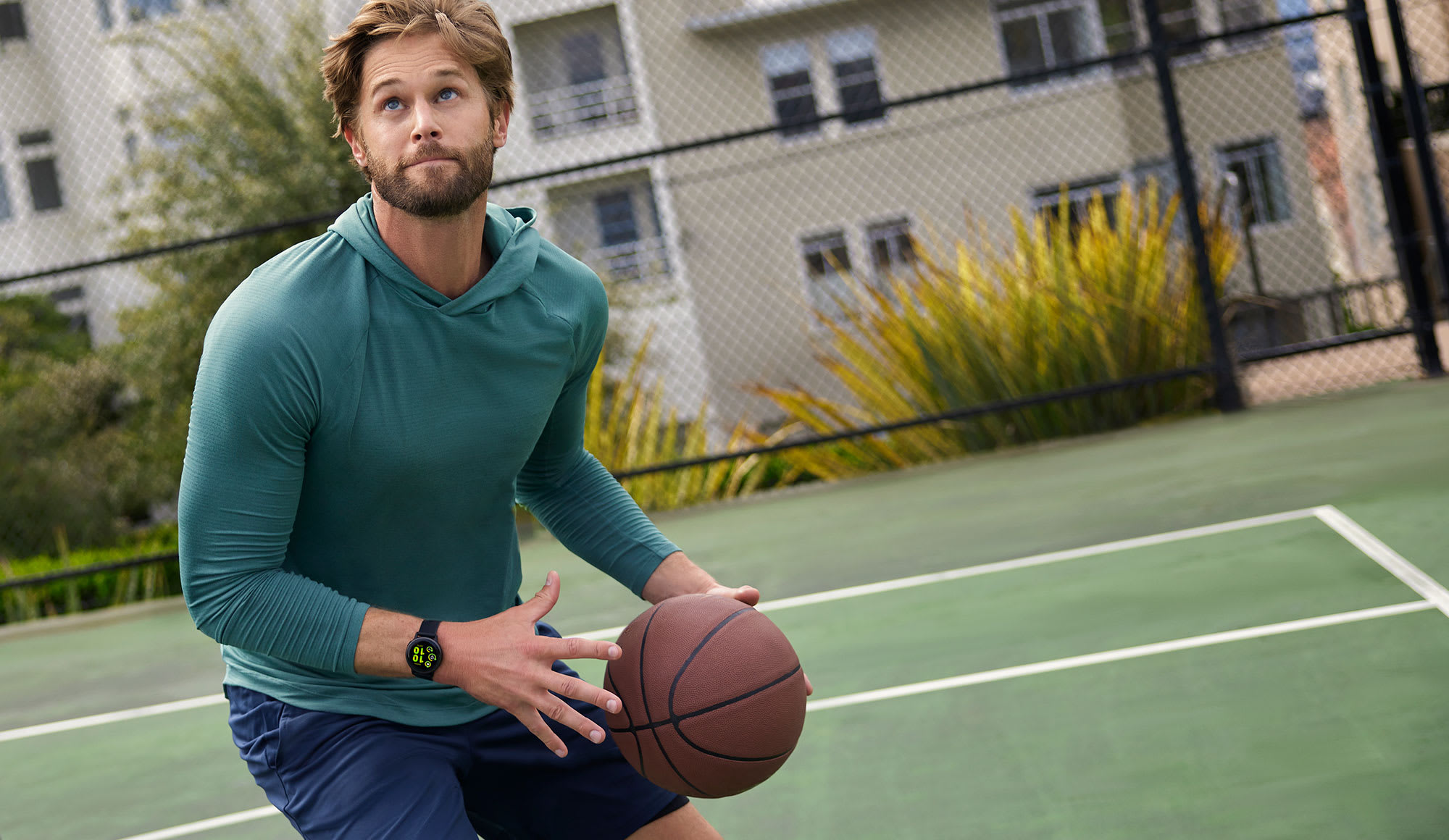 GET A MORE COMPLETE PICTURE OF YOUR HEALTH WITH UP TO 11 DAYS OF BATTERY LIFE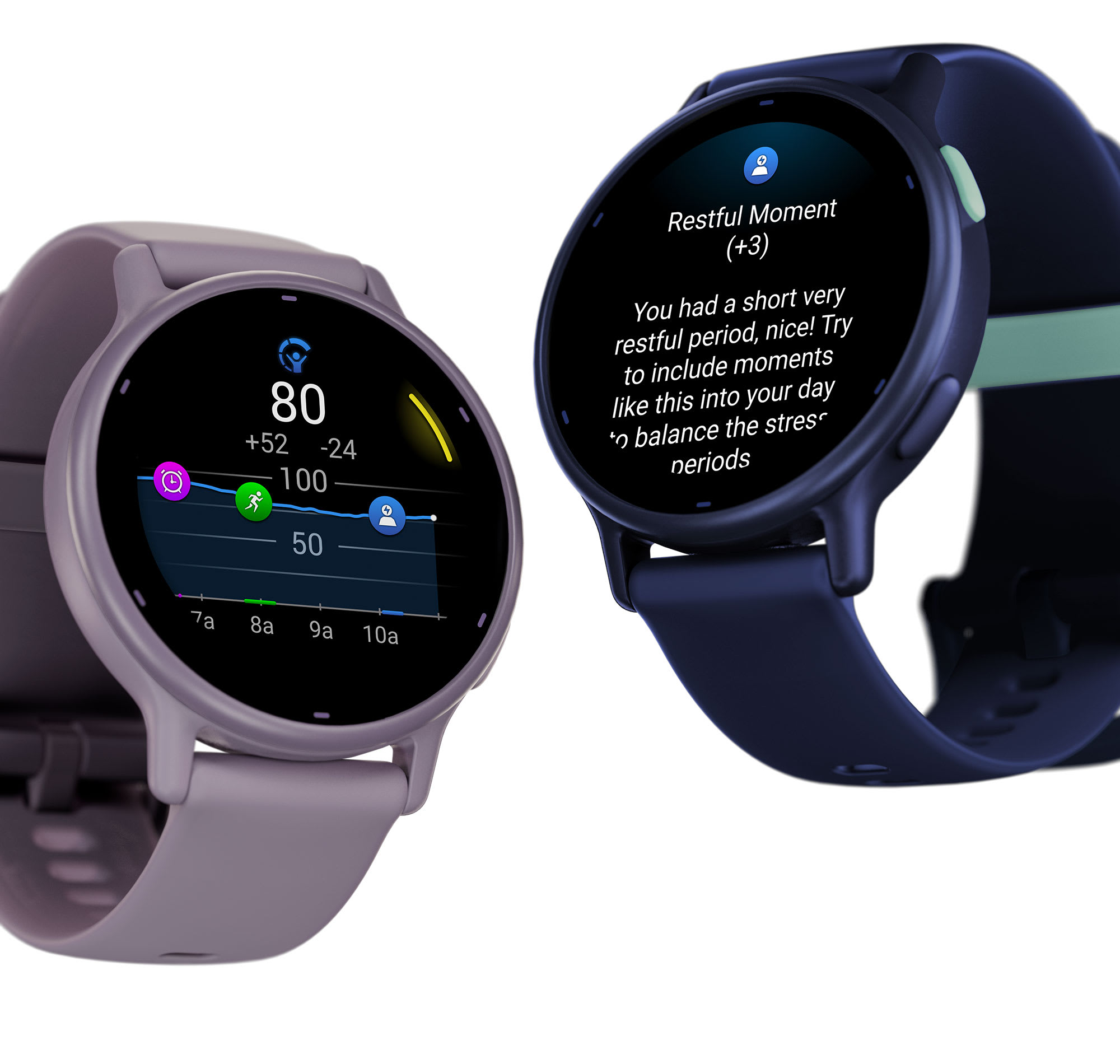 UNDERSTAND WHAT DRAINS AND CHARGES YOUR BODY THROUGHOUT THE DAY AND NIGHT WITH BODY BATTERY™ ENERGY MONITORING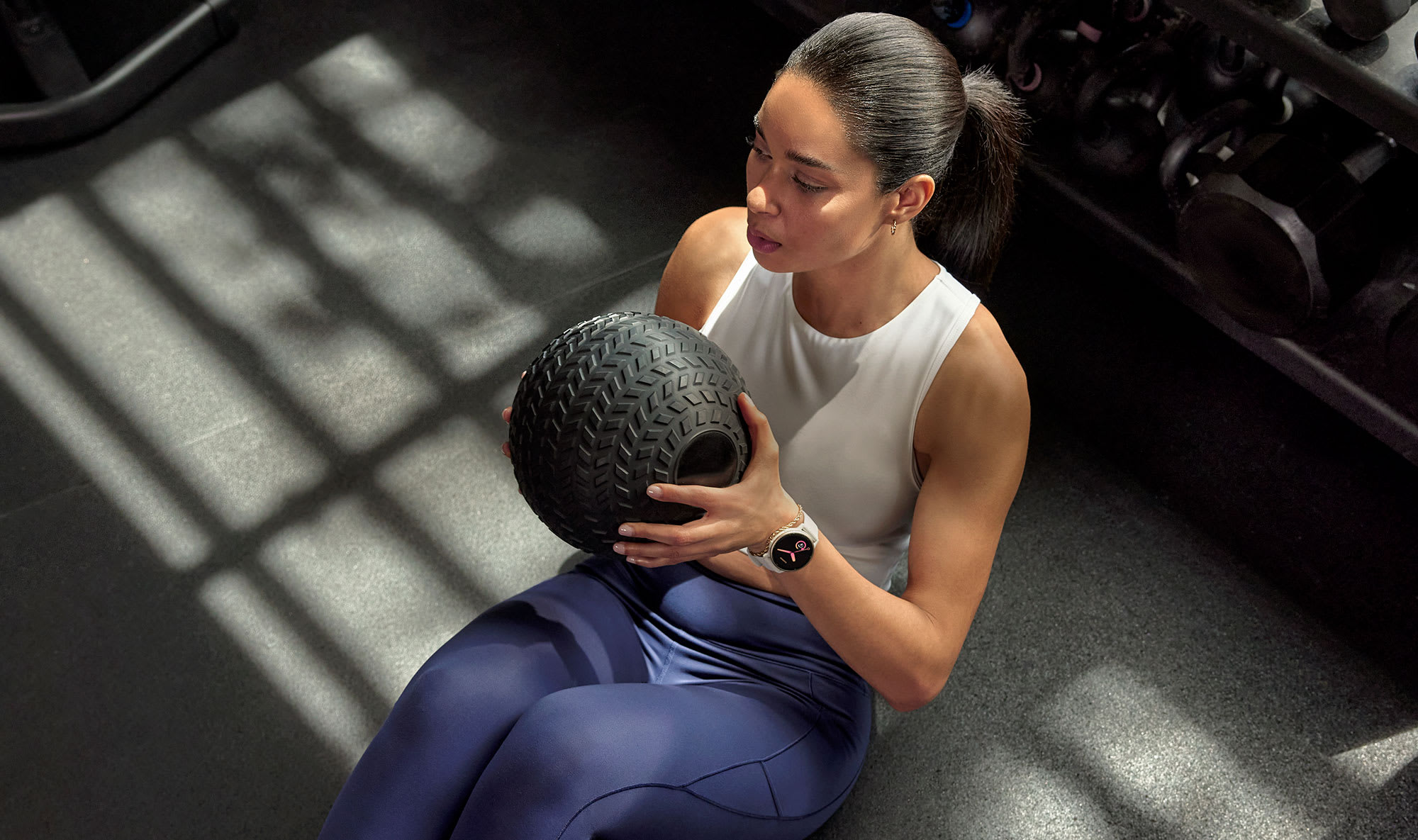 WITH 30+ SPORTS APPS, WORKOUTS AND GARMIN COACH, TRAIN PURPOSELY AND EFFECTIVELY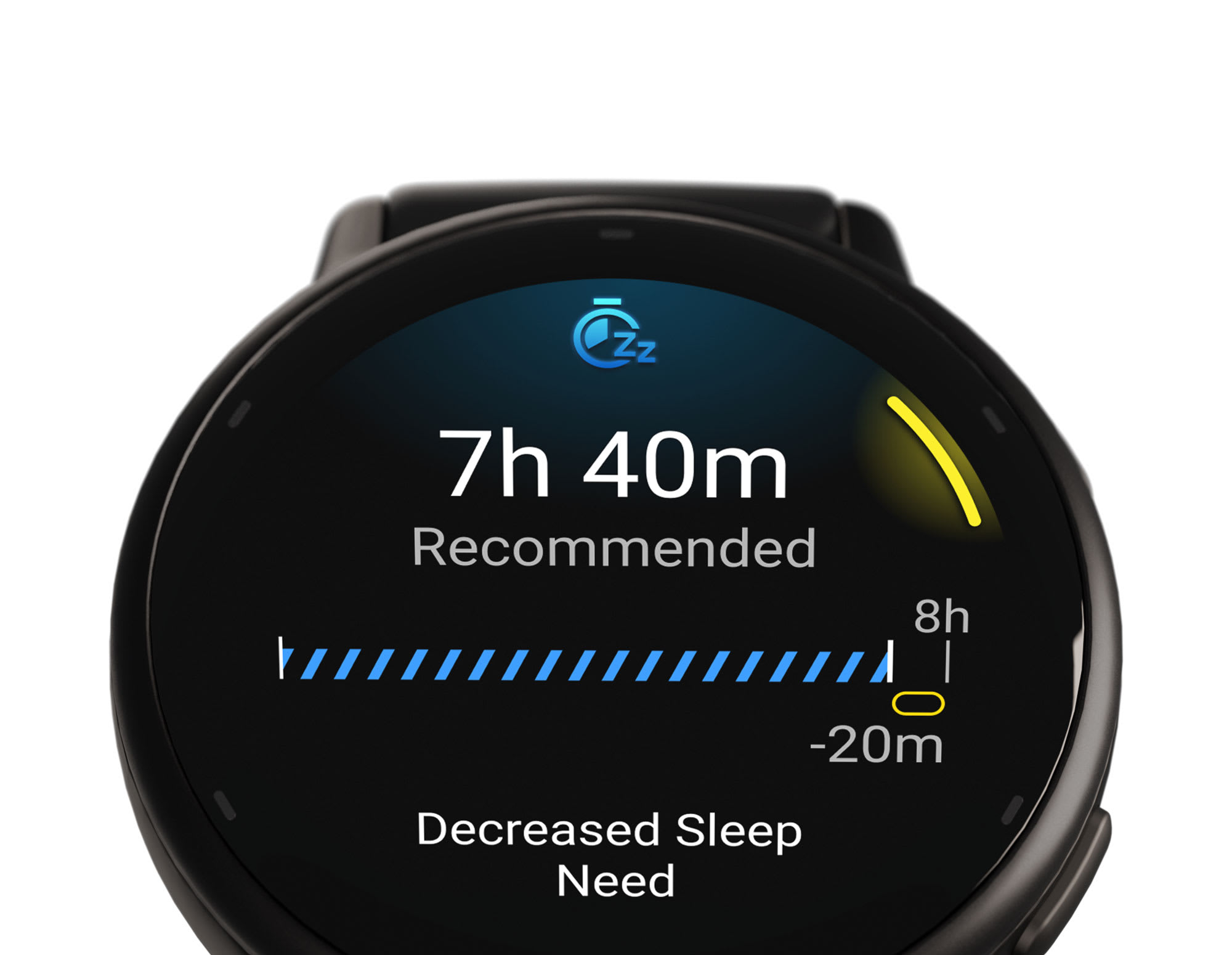 GET A SLEEP SCORE AND PERSONALIZED SLEEP COACHING FOR HOW MUCH SLEEP YOU NEED — WITH TIPS ON HOW TO IMPROVE YOUR SLEEP QUALITY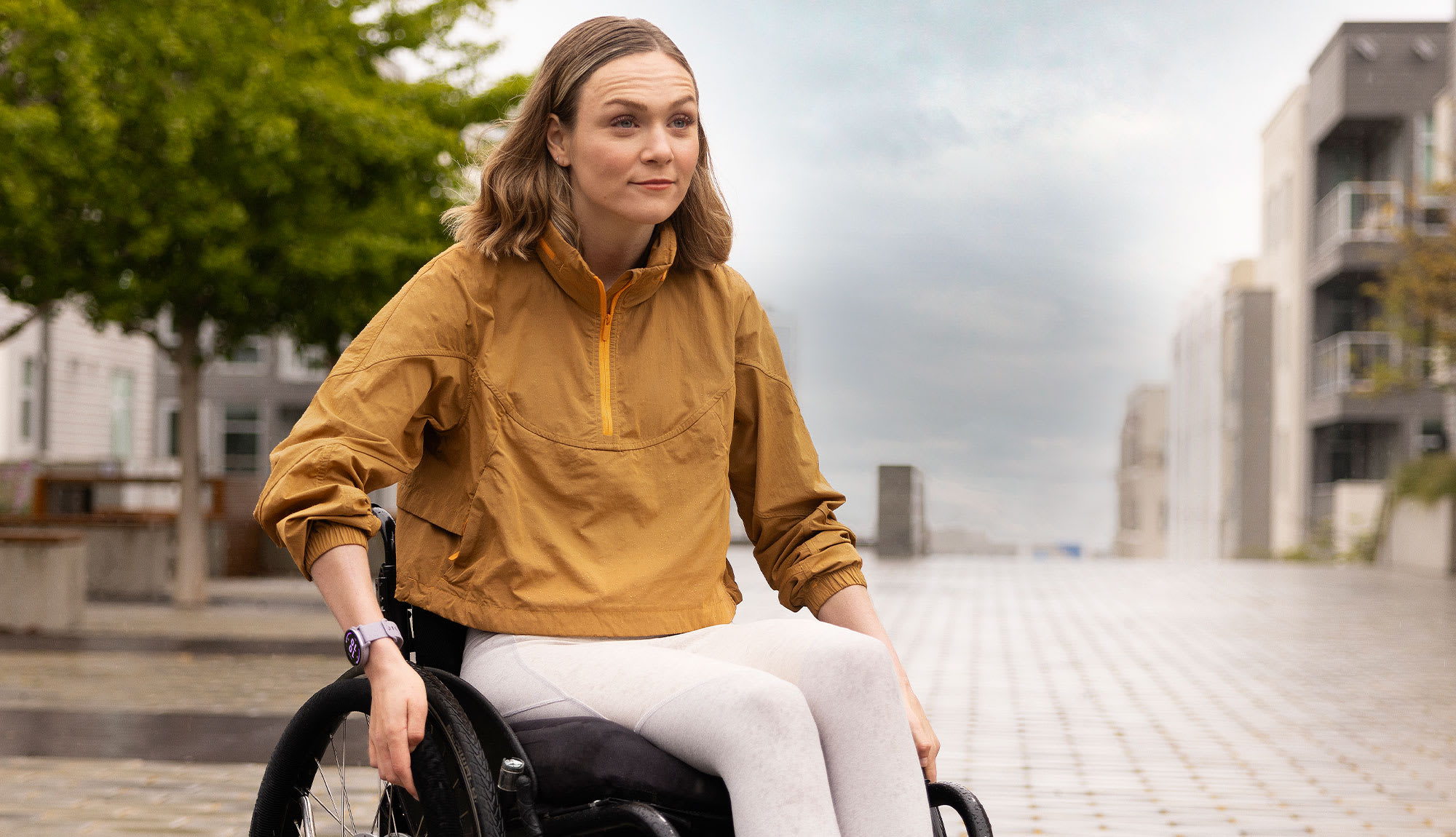 VÍVOACTIVE 5 CAN TRACK PUSHES AND OFFERS BUILT-IN WORKOUTS DESIGNED FOR WHEELCHAIR USERS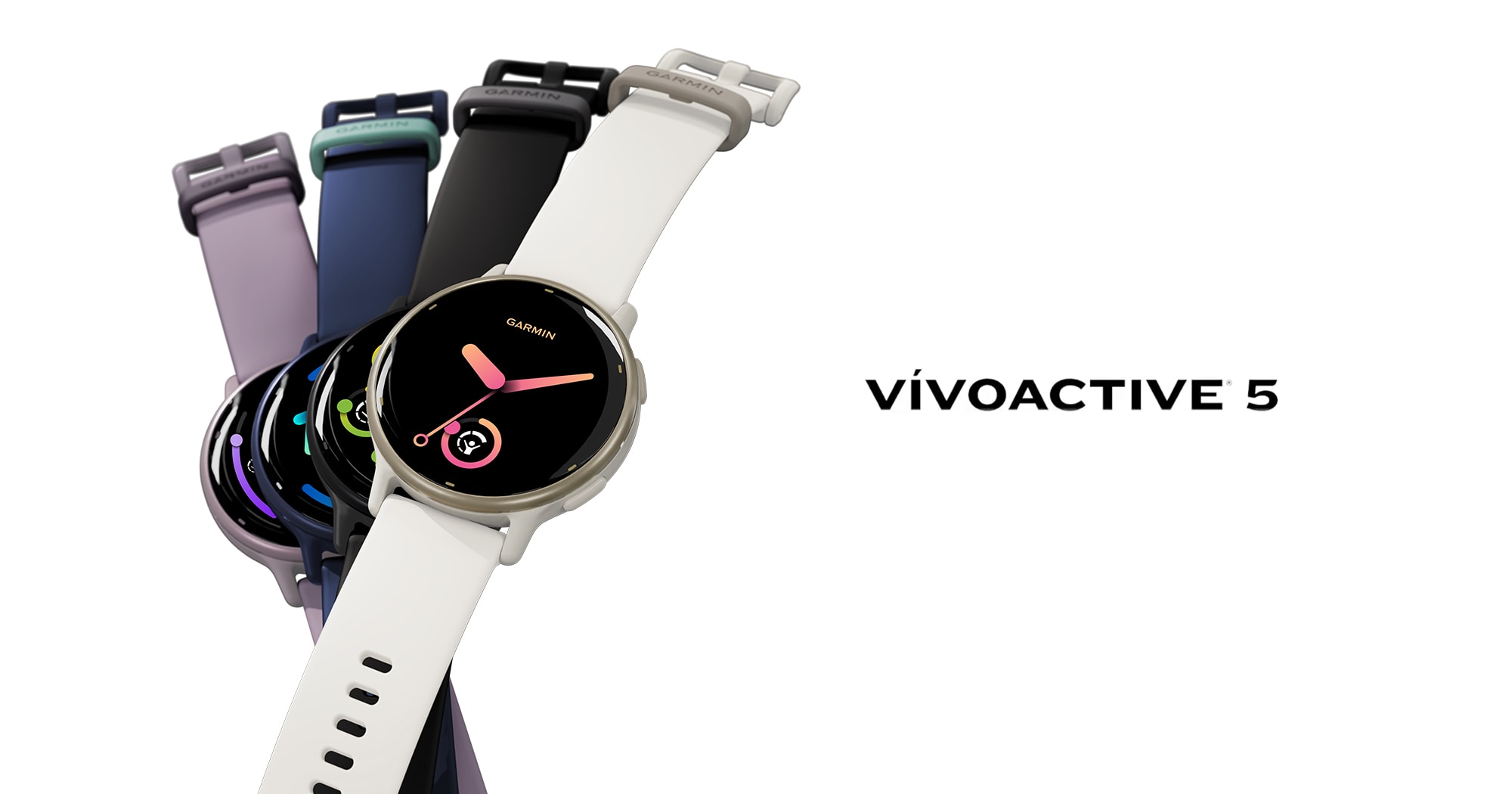 KNOW THE REAL YOU
Purpose-built with advanced health and fitness features, vívoactive 5 is more than just a smartwatch — it's your personal on-wrist coach there to support your every goal.
BRIGHT 1.2" AMOLED TOUCHSCREEN DISPLAY
UP TO 11 DAYS OF BATTERY LIFE IN SMARTWATCH MODE
DETAILED HEALTH AND WELLNESS INSIGHTS
ADVANCED FITNESS FEATURES
GARMIN CONNECT™ APP ON IPHONE® AND ANDROID™ SMARTPHONES
CONNECTED FEATURES LIKE MUSIC AND GARMIN PAY™ CONTACTLESS PAYMENTS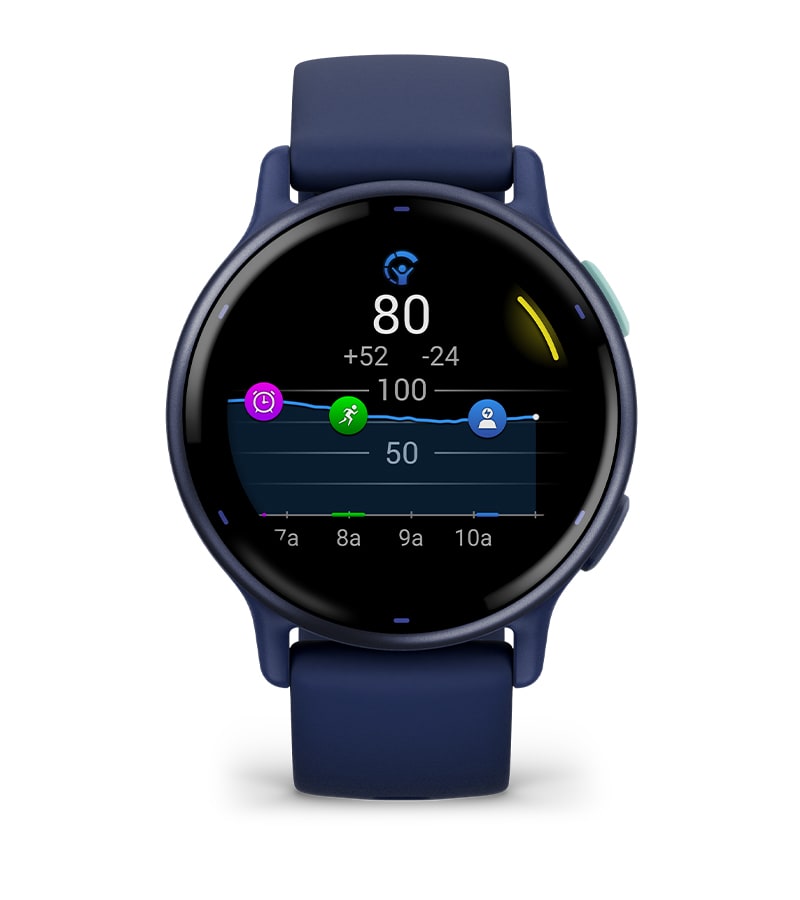 BODY BATTERY™ ENERGY MONITORING
See your energy levels throughout the day, so you'll know when your body is charged up and ready for activity or drained and needing to recharge with restful sleep. And get even more details and personal insights on how sleep, naps, daily activities and high stress specifically impact your energy1.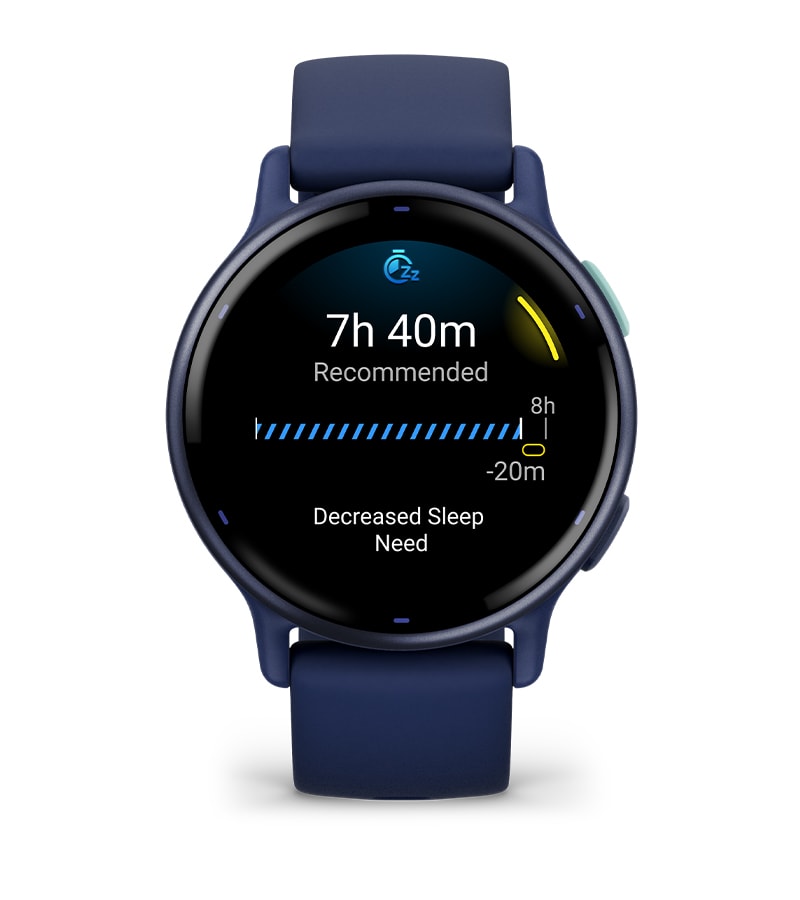 SLEEP COACH
Get a sleep score and personalized coaching for how much sleep you need and how you can improve. Even keep track of different sleep stages and naps — and see several key metrics over your sleep period, such as HRV status to better understand your health1.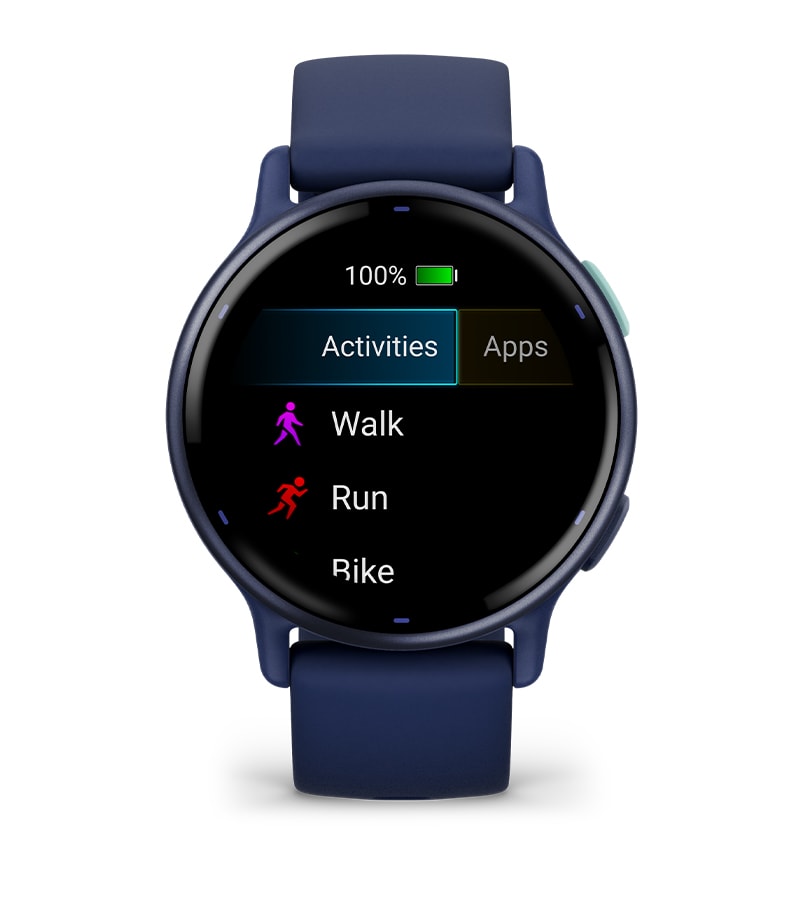 BUILT-IN SPORTS APPS
Track all the ways you move with more than 30 preloaded GPS and indoor sports apps — including walking, running, cycling, pool swimming, activities for wheelchair users and more.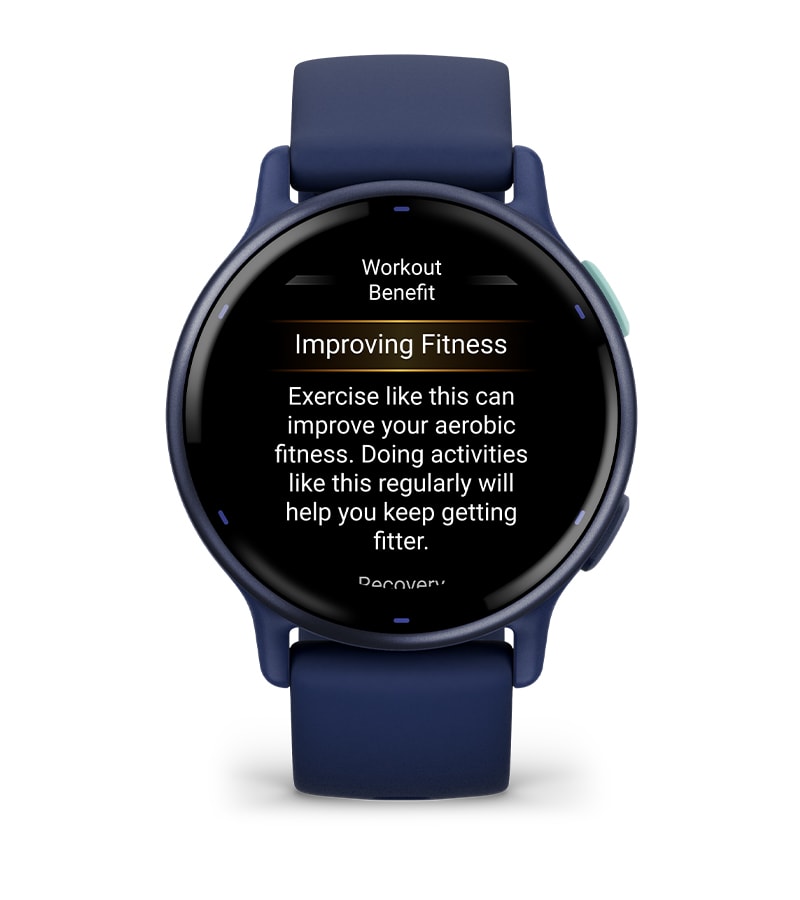 WORKOUT BENEFIT AND RECOVERY TIME
Better understand how each workout affects your body and how much time you need to recover so you can take on any fitness challenge.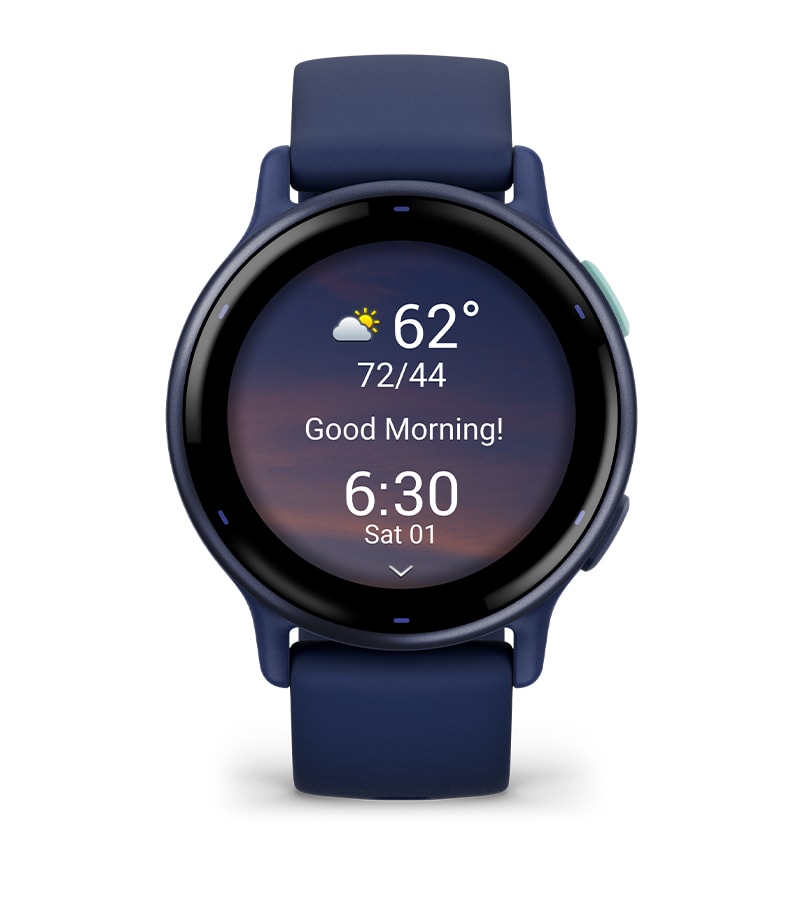 MORNING REPORT
Receive an overview of your sleep, recovery, daily calendar, HRV status and more as soon as you wake up. You can even customize your report to show what you want to see.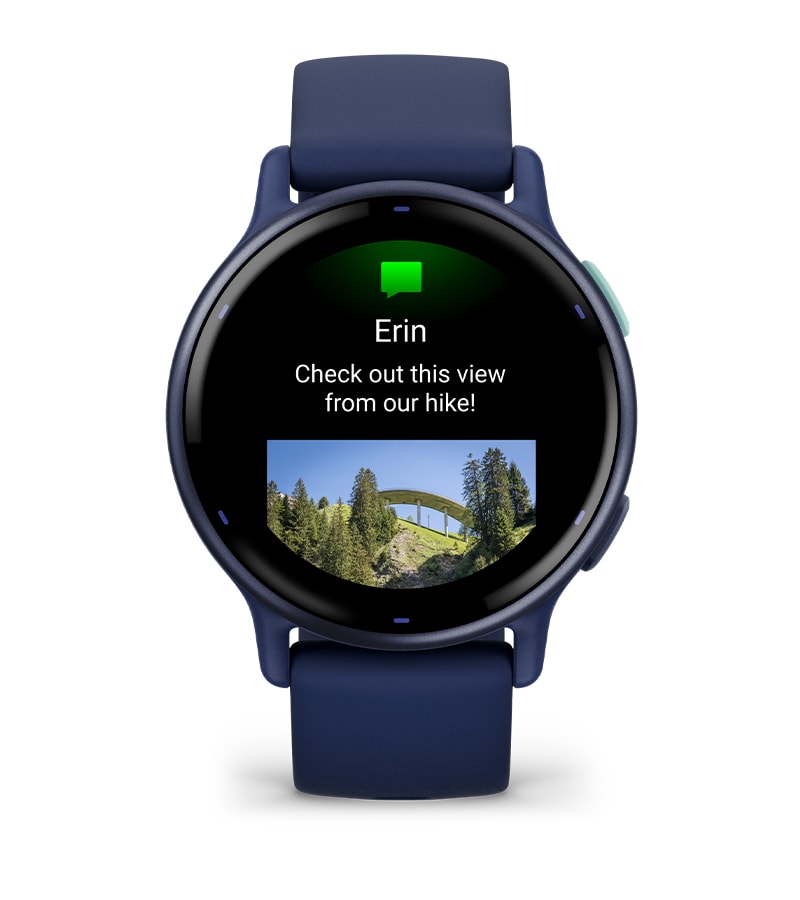 SMART NOTIFICATIONS AND TEXTING
Receive emails, texts and alerts on your watch when paired with your iPhone or Android smartphone. With an Android phone, respond to texts with the on-watch keyboard, and view photos sent to you directly from your watch's screen.
HEALTH
NAP DETECTION
Automatically track or log your naps to see how they benefit your body and the ideal time and duration they should be.
HRV STATUS
Gain a deeper understanding of your overall health through heart rate variability while you sleep.
WRIST-BASED HEART RATE
The vívoactive 5 smartwatch constantly samples your heart rate, so you can stay in the know all day and night1.
STRESS TRACKING
Find out if you're having a calm, balanced or stressful day.
WOMEN'S HEALTH TRACKING
Track your menstrual cycle or pregnancy, and get exercise and nutrition education.
HEALTH SNAPSHOT
Log a 2-minute session to record key health stats, then generate a report to share with your health care provider.
PULSE OX SENSOR
Track your blood oxygen saturation while you're awake or asleep2.
MEDITATION
Help reduce stress, anxiety and more with guided meditation practices.
MINDFUL BREATHING
Start a breathwork activity to track your stress and respiration.
HYDRATION
Log your daily fluid intake as a reminder to stay hydrated.
RESPIRATION
See how you're breathing throughout the day and night.
FITNESS
WHEELCHAIR MODE
Track your daily pushes1, plus get weight shift alerts, sports apps and workouts for wheelchair users and more.
GARMIN COACH
Get free adaptive 5K, 10K and half-marathon training plans from expert coaches.
FITNESS AGE
Estimate how fit you are compared to your actual age.
WORKOUT CREATION
Create step-by-step workouts from more than 1,600 exercises in the Garmin Connect app, and send them directly to your watch.
AUDIO PROMPTS FOR ACTIVITIES
Get guided audio prompts straight from your watch for run and walk activities.
INTERVAL CREATION
Build your own interval workout for running and cycling activities
PERCEIVED EXERTION
Record your rate of perceived exertion after each workout.
INTENSITY MINUTES
Track your moderate and vigorous activity minutes.
ACTIVITY TRACKING
Keep tabs on your daily steps, calories burned and more from your wrist1.
VO2 MAX
See your current fitness level, and track changes over time to set goals, evaluate progress and more (not available in wheelchair mode).
CONNECT
GARMIN CONNECT
See your health and fitness information, connect with friends, and more.
GARMIN PAY CONTACTLESS PAYMENTS
Breeze through checkout lines or transit systems with participating providers.
MUSIC
Download songs and playlists from your Spotify, Deezer or Amazon Music accounts for phone-free listening.
SAFETY AND TRACKING
If you feel unsafe or if your watch senses that an incident occurred, your watch will send a message with your live location3.
VIEW PHOTOS
With an Android phone, view photos sent to you directly from your watch's screen.
CONNECT IQ™ STORE
Add watch faces, data fields and apps to your paired watch.
TWO FONT SIZES
Choose between a small or larger font size so you can view your data with ease.
Physical & Performance
Display Size
1.2" (30.4 mm) diameter
Battery life

Smartwatch mode: Up to 11 days (5 days display always-on)
Battery Saver Smartwatch mode: Up to 21 days
GPS-Only GNSS mode: Up to 21 hours
All-Systems GNSS mode: Up to 17 hours
All-Systems GNSS mode with music: Up to 8 hours
See details

Display resolution
390 x 390 pixels
GPS
Yes
Weight

23 g (36 g with included band)
Maps & Navigation
Features
STR3AMUP! PC tool for streaming biometrics
No
Wheelchair mode
Yes
3-axis compass with HSI (horizontal situation indicator)
No
Touch and/or button lock
Yes
Preloaded ski resort maps
No
Wind speed and direction (requires connection to Garmin Golf app)
No
Live Event Sharing
No
Sleep
yes (advanced)
Green Contours (with Garmin Golf membership)
No
Battery saver (customizable low power watch)
Yes
Swing Tempo
No
Plays and controls watch music
Yes
APNEA mode
No
Ground contact time and balance
No
Density altitude calculator
No
Critical swim speed
No
Training load focus
No
Compatible with Varia Vision™ (head-mounted display)
No
HR alerts
Yes
Training effect (anaerobic)
No
Abnormal heart rate alerts
yes (high and low)
Easy break planning
No
Vertical speed
No
Lactate threshold
No
View images from notifications on watch (Android™ only)
Yes
Workout tutorials
No
Number of transmitters supported
No
MTB Grit & Flow
No
Customizable data pages
Yes
Configurable lap alerts
No
Incident Detection during select activities
Yes
Physio TrueUp
Yes
Custom alerts
No
NEXRAD on moving map
No
Back to start
Yes
Vertical oscillation and ratio
No
Altimeter with adjustable baro setting
No
Physical size

42.2 x 42.2 x 11.1 mm

Fits wrists with a circumference of 125-190 mm

Move alerts (displays on device after a period of inactivity)
Yes
Live Delta Time
No
Automatic altitude adjustment
No
Bezel Material

anodized aluminum

Hazards and course targets
Yes
Truck driver workouts
No
TruSwing™ compatible
No
UltraTrac mode
No
VO2 Max (Trail Run)
No
Up Ahead
No
Preloaded race tracks
No
Pulse Ox Blood Oxygen Saturation Monitor
Yes
Relaxation breathing timer
Yes
% HR max
Yes
In Case of Emergency (I.C.E.)
No
Gas time remaining
No
Case material
fiber-reinforced polymer
Subwave™ Support
No
Audible alerts
No
Color display
Yes
Multiple bike profiles
No
Rest timer
No
Wrist-based heart rate (constant, every second)
Yes
Find My Phone
Yes
PrePass weigh station notifications and bypass decisions
No
Stride length (real time)
No
Bike lap and lap maximum power (with power sensor)
No
Open-water swim metrics (distance, pace, stroke count/rate, stroke distance, swim efficiency (SWOLF), calories)
Yes
Training effect
No
Spectator messaging
No
Advanced workouts
Yes
Charging method
Garmin proprietary plug charger
Trendline™ Popularity Routing
No
Strava Live Segments
No
Boundary enter/exit
No
Training readiness
No
Timer
Yes
Courses
No
Respiration rate (during exercise)
yoga, breathwork and meditation only
Wirelessly receive flight plans from Garmin Pilot™
No
Nap detection
Yes
Intensity minutes
Yes
Interval training
Yes
MOS & Meteogram
No
Alerts (triggers alarm when you reach goals including time, distance, heart rate or calories)
Yes
Pairs with Garmin Connect™ Mobile
Yes
Breathwork
Yes
Virtual starting line
No
Sun and moon information
yes (via Connect IQ™)
Automatically saves dive entry and exit locations
No
Power guide
No
HRV stress test (measures your heart rate variability while standing still, for 3 minutes, to provide you with an estimated stress level; the scale of this is 1 to 100; low scores indicate lower stress levels)
No
Sight 'N Go
No
Location tracking
No
Pulse Ox blood oxygen saturation
yes (spot-check, and optionally all-day and in sleep)
Projected waypoint
No
Hill score
No
Bread crumb trail in real time
No
Built-in mapping
No
Customizable activity profiles
Yes
Auto start/end dive
No
Reference point
No
SatIQ™ Technology
No
Connect IQ™ (downloadable watch faces, data fields, widgets and apps)
Yes
Cadence (provides real-time number of steps per minute)
Yes
Controls smartphone music
Yes
Power meter compatible
No
LED flashlight
No
APNEA hunt mode
No
60-minute activity goal
No
Manual multisport activities
No
Chores
No
Moving Map with aviation airports, navaids, roads, bodies of water and more
No
Point-to-point navigation
No
Anchor Alarm
No
Gauge mode
No
PacePro™ Pacing Strategies
No
Course- and weather-specific race predictor
No
Yardage to layups/doglegs
Yes
TAF (Terminal Aerodrome Forecast)
No
Auto Pause®
Yes
Running dynamics
No
Battery life (smartwatch mode)
Up to 11 days (5 days display always-on)
Gaming Activity
Yes
Full vector map
No
Body Battery™ energy monitor
Yes
BLUETOOTH phone calling and voice assistant support
No
Accelerometer
Yes
Recovery time
Yes
Custom dive data screens
No
GameOn™ app compatible
Yes
Drill logging (pool swim only)
No
Preloaded with 43,000 courses worldwide
No
Track timer
No
Strap material

silicone

Jet lag adviser
No
Race App
No
Round timer/odometer
Yes
Smart trainer control
No
Heat and altitude acclimation
No
Make calls and send texts via voice
No
Cardio workouts
Yes
Connected GPS
No
Performance condition
No
Galileo
Yes
Distance traveled
Yes
Manual lap
Yes
GPS-based distance, time and pace
Yes
Text messaging
No
Realtime stamina
No
Running power
No
Nitrox support
No
Assistance
Yes
Race predictor
No
Stealth Mode
No
Pairs with Garmin Golf app
Yes
Auto lap splits
No
"Repeat on" rest timer (pool swim only)
No
Pilates workouts
Yes
GPS coordinates
No
Lap Time Repeatability Score (LTR)
No
Air integration
No
Audio prompts
Yes
Auto CourseView updates
No
Downloadable training plans
Yes
Stocks
No
Measures shot distance (calculates exact yardage for shots from anywhere on course)
automatic
Run/Walk/Stand detection
Yes
Closed Circuit Rebreather (CCR)
No
Heart rate from external HRM (real-time during rests, interval and session stats during rests, and automatic heart rate download post-swim)
No
Compatible with Varia™ radar (rear-facing radar)
Yes
Task timers (2, 5, 10, 15, 20 and 30 minutes)
No
Pool swim workouts
No
Assistance Plus
No
Multi-gas mode
No
Music storage
Yes
Race an Activity
No
Kill switch
No
Hot keys
No
Single-gas mode
No
Activity history on watch
Yes
On-screen workout animations
No
Meditation
Yes
Auto max HR
No
Daily suggested workouts
No
Device languages

Arabic, Bulgarian, Croatian, Czech, Danish, Dutch, English (US), Estonian, Finnish, French, German, Greek, Hebrew, Hungarian, Indonesian, Italian, Japanese, Korean, Latvian, Lithuanian, Malay, Norwegian, Polish, Portuguese (Brazil), Portuguese (EU), Romanian, Russian, Simplified Chinese, Slovak, Slovenian, Spanish (International), Swedish, Thai, Traditional Chinese, Turkish, Ukrainian, Vietnamese

Solar Charging
No
Foot pod capable
Yes
Compatible with Vector™ and Rally™ (power meters)
No
Phone-free text messaging
No
Tournament legal
Yes
Display type
AMOLED (optional always-on mode)
Incident detection alert on phone for wearables
Yes
Race an activity
No
Finish time
No
Elevation profile
No
PlaysLike distance
No
Workout benefit
Yes
Aviation Alerts
No
Virtual Partner
No
VO2 Max (Run)
Yes
Relaxation reminders
Yes
Reminder alerts
No
Wind meter compatible
No
Race glance/widget
No
Training load
No
Endurance score
No
Touchscreen
Yes
Chronograph
No
Ambient light sensor
Yes
Touch-targeting (touch target on display to see the distance to any point)
No
Stroke type detection (freestyle, backstroke, breaststroke, butterfly) (pool swim only)
Yes
Garmin ECG App
No
In-flight Pulse Ox
No
Yardage to F/M/B (distance to front, middle and back of green)
Yes
Calendar
Yes
Barometric altimeter
No
Unlock new step icons
No
On-device Connect IQ™ Store
Yes
Weather forecasts
Yes
Auto Lap®
Yes
productSpecSunTimes
Yes
Tide glance
No
Pacing alerts (pool swim only)
No
Floors climbed
No
Respiration rate (24x7)
Yes
Gas consumption rate
No
Workouts for wheelchair users
Yes
% HRR
No
Ballistics solver
No
On-screen workout muscle maps
Yes
Auto rest
No
Basic rest timer (up from 0) (pool swim only)
Yes
Available outdoor recreation profiles

Skiing, Snowboarding, XC Classic Skiing, Snowshoeing, Stand Up Paddleboarding, Rowing, Tennis, Padel, Pickleball, Disc Golf

TracBack®
No
Weight shift alert
Yes
Advanced cycling dynamics
No
Handicap scoring
No
Primary benefit (Training Effect labels)
No
Multi-band GPS
No
HR zones
Yes
Auto rest (pool swim only)
Yes
Stat tracking (strokes, putts per round, greens and fairways hit)
Yes
Connectivity
Bluetooth®, ANT+®, Wi-Fi®
Improved interval (includes open repeats, intervals data page, rest screen and auto detection)
Yes
Sleep score and insights
Yes
Custom targets
No
Downloadable cartography support
No
Available run profiles

Running, Treadmill Running, Indoor Track Running

Run workouts
Yes
Stopwatch
Yes
Worldwide airport database(s)
No
Waypoint information page
No
GPS speed and distance
Yes
Round-trip course creator (running/cycling)
No
Area calculation
yes (via Connect IQ™)
Find My Watch
Yes
Automatic club tracking compatible (requires accessory)
Yes
Connext avionics connectivity
No
Preloaded road and trail maps
No
Built-in speaker/microphone
No
Rest Timer (Ultra Run only)
No
Unified training status
No
VIRB® Remote
No
Smartphone compatibility
iPhone®, Android™
Dual grid coordinates
No
HRM running pace and distance
Yes
Expedition GPS Activity
No
TrueUp™
Yes
Morning report
Yes
Multiple time zones with Zulu/UTC
No
Trimix support
No
Compatible with Varia™ lights
Yes
Two-way voice calls
No
Thermometer
yes (tempe™ sensor required)
Hydration
Yes
Alarm clock
Yes
Group LiveTrack
No
Gyroscope
No
Underwater wrist-based heart rate
Yes
Countdown start (pool swim only)
No
Push tracker
Yes
Health snapshot
Yes
ClimbPro™ Ascent Planner
No
Truck plaza loyalty programs
No
Night vision mode
No
Available swim profiles

Pool Swimming, Open Water Swimming

Tempo Training
No
Power Modes - customizable in-activity battery settings
No
Move IQ™
Yes
Speed and cadence sensor support (w/sensor)
yes (using ANT+ or BLE)
Do not disturb/School mode
No
Garmin Elevate™ wrist heart rate monitor
Yes
Tides
No
GLONASS
Yes
Smart Notifications
Yes
Garmin Pay™
Yes
HRV status
Yes
Automatic daylight saving time
Yes
Yoga workouts
Yes
Depth sensor
No
Time/date
yes
Sync dive log to Garmin Dive™ Mobile app
No
Rewards (coins)
No
Virtual caddie
No
Calories burned
Yes
Toe-to-Toe™ Challenges app
No
Garmin Live Segments
No
HR broadcast (broadcasts HR data over ANT+® to paired devices)
yes (using ANT+ or BLE)
Fly activity emergency mode
No
Total ascent/descent
No
Auto multisport activities
No
Last race summary
No
Cycle Map (routable cycling-specific street map)
No
Power curve and % FTP workouts
No
PinPointer
Yes
Step counter
Yes
METAR (Meteorological Aerodrome Report)
No
Quick Release bands
yes (20 mm, Industry standard)
Trail run auto climb
No
Barometric trend indicator with Storm Alert
No
Automatic rep counting
Yes
LiveTrack
Yes
HR calories
Yes
Grade-adjusted pace
No
Sleep coach
Yes
Tides
No
Water rating
Swim, 5 ATM
Time and distance alerts
Yes
Garmin Connect™ Challenges app
Yes
XERO™ Locations
No
All-day stress
Yes
Tack assist mode
No
Compatible with dēzl™ OTR truck navigators
No
Worldwide NAVAID and Intersection database(s)
No
Available cycling profiles

Biking, Indoor Biking, eBiking, Handcycling, Indoor Handcycling

HIIT workouts
Yes
Future elevation plot
No
Large font option
Yes
Games
No
Orienteering
No
Text response/reject phone call with text (Android™ only)
Yes
Around Me mode
No
Realtime settings sync with Garmin Connect™ mobile
Yes
Fish forecast
yes (via Connect IQ™)
Course guidance
No
GPS Time Sync
Yes
Countdown timer
No
Auto scroll
Yes
Analog hands
No
Compass
Yes
Digital scorecard
yes
Lens Material

Corning® Gorilla® Glass 3

NextFork™ navigation
No
Green View with manual pin position
Yes
Strength workouts
Yes
Distance to destination
No
Voice messaging
No
Women's health
Yes
Training status
No
Pool swim metrics (lengths, distance, pace, stroke count, swim efficiency (SWOLF), calories)
Yes
Daily resting heart rate
Yes
Auto goal (learns your activity level and assigns a daily step goal)
Yes
Garmin AutoShot™
Yes
Fitness age
Yes
FTP (Functional Threshold Power)
No
Dive ascent/descent rate indicator
No
Built-in barometer and tide tables
No
vívoactive 5
USB-C Charging/data cable
Documentation